In this case study, Fabiana shares the purpose behind creating her perfume brand UNI Perfumes.
During a networking event in the Netherlands, I met a refugee from Syria who shared his heart-warming story about his life and expertise as a 'Nose' (perfume maker). He needed help establishing himself in the Netherlands, and I saw a huge potential for us to collaborate.
I revealed to him my long-held dream of making a special 'parfum'. It was magical that he was able to take the scent from my mind, and help me create the fragrance in a bottle. We ended up creating three different perfumes!
Travel-Ready Perfume
The collaborations went further when I met another creator, who made vegan guitar straps from cork. It really excited me, because I love the dance between musical notes and perfume notes. And the thought that my perfume bottles could be wrapped safely in a sustainable material that provides protection for the bottles during transport.
Being a frequent traveller, having a small size to take along was very important, so we started with a 10ml bottle. It's also great for people who would like to try out a perfume before committing to purchasing a larger bottle.
The beautiful packaging is functional and looks fabulous. The material (cork) is very sustainable – really good for the environment. So again, it's a win-win situation.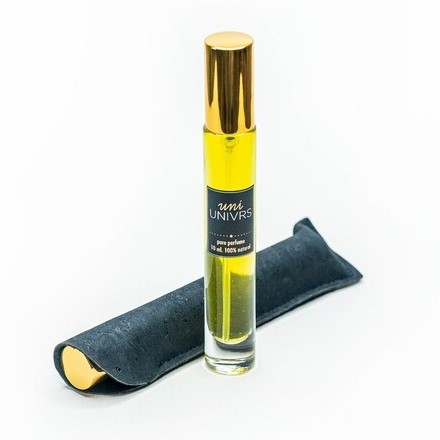 impact of our choices
The criteria for my perfume was that the oils needed to be as natural as possible, and that the product have as little impact on the planet. Having the cork packaging was a good start.
But the bottle itself became a bottleneck! I didn't want them to simply end up in landfill. The glass is fully recyclable, and then the idea for a perfume passport came to me – with each purchase, clients receive a passport and can use that to send their empty bottles back, and order a refill with a special discount.
You & I (UNI)
Another thing I love about perfume, is that our sense of smell has direct access to the unconscious mind. When we smell a familiar scent, we're immediately transported back to the place and time.
Perhaps it was a memory of your grandmother gently placing a flower under your nose, or the smell of your mom's hair as she hugged you. Or the lingering scent of a loved one on their clothes. It's a direct connection between You & I.